Hello!

First of all, welcome to MapleLegends! You are currently viewing the forums as a guest, so you can only view the first post of every topic. We highly recommend registering so you can be part of our community.

By registering to our forums you can introduce yourself and make your first friends, talk in the shoutbox, contribute, and much more!

This process only takes a few minutes and you can always decide to lurk even after!

- MapleLegends Administration-

Experiencing crashes with 'Unknown Error'? Make sure you are on the latest MapleLegends version. The current latest version is found by

clicking here.

Dismiss Notice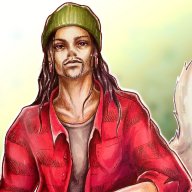 Last Activity:

Jul 21, 2019 at 4:03 PM
Joined:

Dec 29, 2017
Messages:

119
Likes Received:

84
Trophy Points:
Local time:

4:44 PM
Gender:

Male

Birthday:

Jul 11, 1997

(Age: 22)
FeroxAnima
Web Developer, Male, 22
Staff Member Web Developer
FeroxAnima was last seen:

Jul 21, 2019 at 4:03 PM
Loading...

Loading...

About

Gender:

Male

Birthday:

Jul 11, 1997 (Age: 22)

IGN:

Zelretch/HerSlave

Job:

Level:

181

Guild:

Horny/Muse

Hi <3

I'm Shay (pronounced like the word "shy") :3

Huge nerd; great fondness for books, visual novels, graphic novels/comics/manga, anime, video games, movies/TV series, programming/software development and writing. (Could expand loads on each category but I'm trying to keep this Wall of Text relatively small.)

Recently finished service as a combat medic in a recon squad of my country's army, at long last.

Extremely introverted but I love people by principle; this is a bit easier to express textually, of course, so I'm naturally a little less withdrawn in the context of most online communication (although I assume I do often send an awkward vibe

).

Home, close family, close friends and privacy are all things that are very dear to me to extents that give my life its shape.

Not sure if I saw any point in spilling random details about my grasp of myself here or if I just felt like doing it, but if you've actually read all of that, thanks. That's very nice of you. c:

Nice to meet you

Interact

Signature

Staff

(art by @Bronze)

It's hard to put into words just how much I appreciate having the company of such amazing people on a daily basis.

Flavors

Raccoon hunting

S Q U A D

DISPEEEEEEEEEEEEEEEEEEEEEEL

NT with Bryan <3

Reminiscing <3

(+ cameo of my visit to NapLords)

Staff christmas gift

my dotti <3

Anna getting her T10 ring

QUALITY TIME <3

They show me sides of myself I should have dicovered long ago

Sammi finally getting her chair <3

After Christine and Lisa's first APQ (+ CAMEO FROM ANDRES)

What a beautiful sight to unafk to

THE FLOWERS COME FROM THE FEELZ, NOT THE OTHER WAY AROUND

It was too hard to choose which one <3

Faisal visits

You don't

truly

know cozy until you find yourself cuddling with shadowers and their majestic dragons

They made such an effort to attend our wedding

#NSFW <3

meetup <3

I may have found my faith again

Former FM afking partner had to leave but Bryan didn't let my guy stay lonely <3

K E L L Y < 3

ez pose

Shaolin all-nighter :')

TO GLORY

I do :')

Shut up and fish

Christine <3

Yuki <3

hour-run Zak squad x)

pre-afk meal

Do

Flavors business as usual

The shifter game

ROAR

Julie joined my afking <3

Nebula GPQ c:

THE PREQUEL TO A GUD RUN

tfw

<3

1 hour and 17 minutes one-party run

BAMBOOOOOOOOOOOOOOOO

Finally a picture with Yuying <3

Reserving both seats by Sophia for myself, tyvm

<3

TROT TROT TROT

Chreesmas <3

Previous cover picture with Ann's old main <3

True story

My wedding turned into a BDSM session and I don't know if I could be happier.

New main, new wedding

Thanks Eran ThiefNL for the screenie <3

Event #1: Neo Tokyo Checklist

1. Take a photo of your friends dancing with Vergamot

2. Take a photo of your friends playing at the Tokyo Park

3. Take a photo embracing the anime (or Japanese) culture with Eruwaters

He's actually a really cool guy if you ignore the lasers and missiles and stuff

That a child has to enter this park with a full party of armed adventurers must mean someone, somewhere needs to get sued

Didn't have enough available cash for a kyoujin cameo :C But this is like the perfect middle ground between super saiyan and a loving heart so it got us right in the

(

kokoro)

feels.

Waifu & Best Girl

Queen

Her Majesty, Mother of Cats

Ryan <3

(ROFL

)

I LOVE THIS XD <33333333333333333333333333333333333333

Ryan <3

Staff

So cuuuuuuute

Thank you for this, you qt

I luv it

I can't even begin to tell you how much I love your art ;------; Thank you

SUPER CUTE <3 Thank you c: I love it!